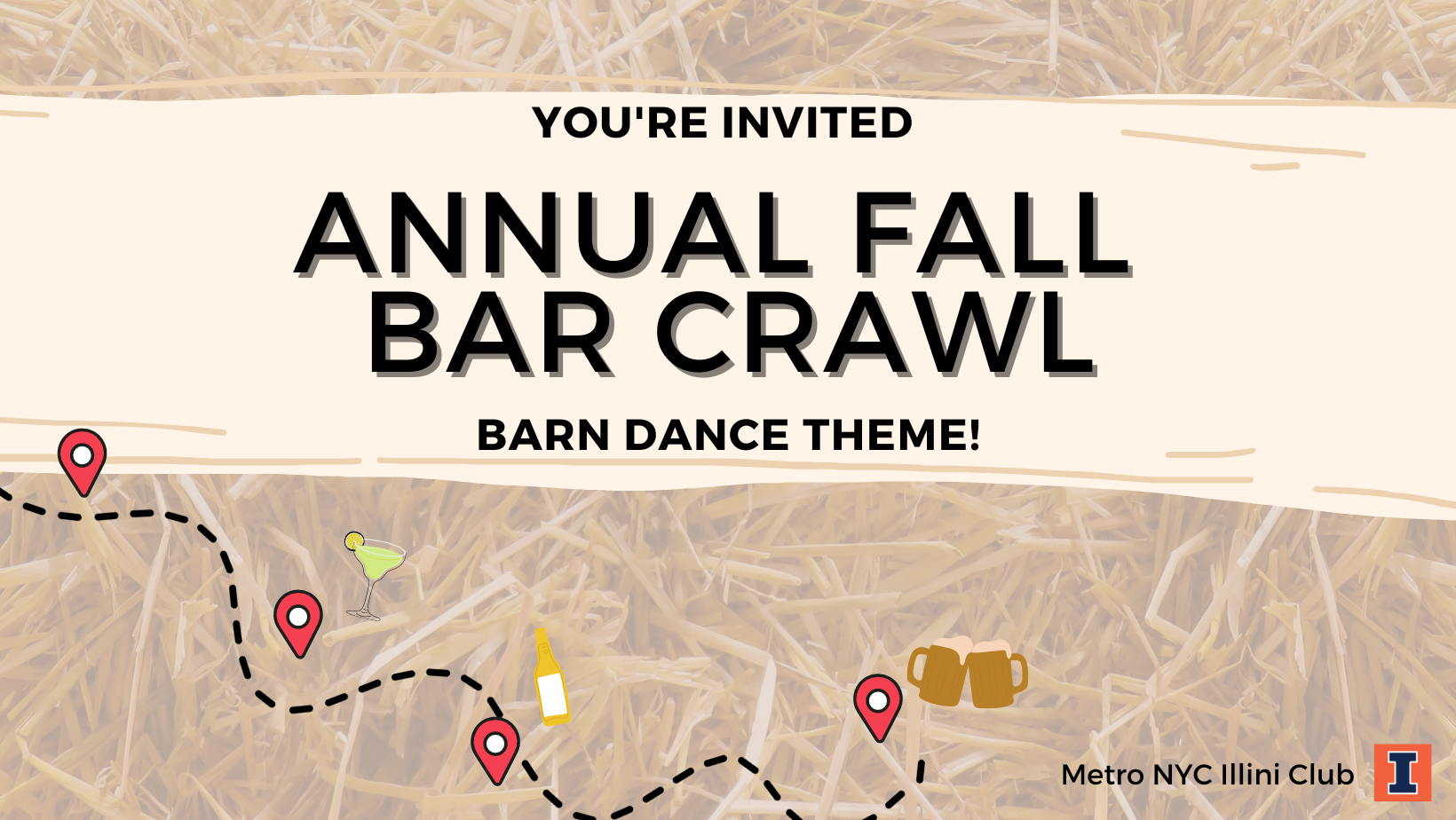 BARN DANCE NYC ILLINI PUB CRAWL - WeST VILLAGE
In true campus style the Metro NYC Illini is hosting a barn dance pub crawl! Grab your plaid, overalls, boots, and cowboy hats and get ready to have a hoot-hollering good time.
This is a great opportunity to meet fellow NYC-area alumni.
We will visit a series of bars on an hourly basis at each venue.
Feel free to join anywhere along the route!
The schedule is as follows:
4:00pm: Triona's - 237 Sullivan St, New York, NY 10012
5:00pm: MacDougal Street Ale House - 122 MacDougal St, New York, NY 10012
6:00pm: 3 Sheets Saloon - 134 W 3rd St, New York, NY 10012
7:00pm: The Four Faced Liar - 165 W. 4th St, New York, NY 10014
8:00pm: Kettle of Fish - 59 Christopher St, New York, NY 10014
Please wear comfortable shoes and dress appropriately for the weather, rain or shine. Walking is optional, if you would prefer to take a taxi or rideshare. We will end at Kettle of Fish officially, but for options following; The Duplex is right next door to Kettle of Fish and is NYC longest running cabaret and and piano bar OR The Red Lion to continue the UIUC reminiscing!
A location and general route map can be found here: Barn Dance Bar Crawl - West Village
If you plan on attending please RSVP below. For any other questions, please email sam_kellow@yahoo.com and knoche.taylor1@gmail.com.
When:
4:00PM - 9:00PM Sat 24 Sep 2022, Eastern timezone

Where:
Triona's
237 Sullivan St
New York, NY 10012 United States
[ Get Directions ]
RSVP Here...